Breastfeeding at Christmas
Posted on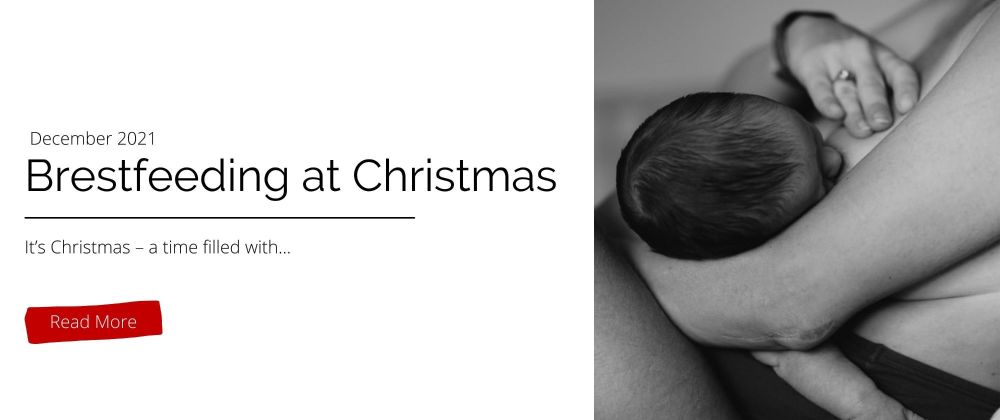 It's Christmas – a time filled with family, food and fun. But just as often, and especially as a new breastfeeding parent, this time of year can be a STRESSFUL.. To help, we've compiled a a few handy tips of how to survive the festive season....
T H E F O O D
Yum, definitely one of the best parts of Christmas!
Once your baby is born, it should be fine to eat all foods that you may have avoided during pregnancy. Most babies are not adversely affected by everyday foods, so although unlikely that your baby will react badly to anything you eat, you may consider temporarily excluding foods if you notice windy or colicky reactions in your baby up to six hours after eating a certain food. Some foods can change the taste of your breast milk, so again, assess from your baby's reaction what they like or dislike.
T H E D R I N K S
While women are often warned not to consume alcohol during pregnancy given the evidence that this could cause damage to an unborn child, the risks of consuming alcohol while breastfeeding are not as well defined.
There are so many differing opinions about breastfeeding and alcohol depending on where in the world you live and social norms.
With the festive season in full flow there are lots of parties and drinks on offer. But what about breastfeeding mums? The NHS guidelines state anything you eat or drink while you're breastfeeding can find its way into your breast milk, and that includes alcohol. But an occasional small drink is unlikely to harm your breastfed baby. However, never share a bed or sofa with your baby if you have drunk any alcohol. Doing this has a strong association with sudden infant death syndrome (SIDS).
(Source NHS)
T R A V E L
Breastfed babies are very portable and if you are able to travel to meet up with friends and family, then breastmilk makes the best travel food! You don't have to worry about taking feeding equipment as your milk will always be available if your baby gets tired or hungry, or your journey is delayed. But make thinks easier on yourself and plan a journey ahead. Expect it to take longer than normal with Christmas traffic and plan shorter journeys or breaks if travelling by car so you can find somewhere to stop for a cuddle break and breastfeed. If using public transport, a baby sling can be useful for keeping your hands free as well as an easy way to feed on the go!
F A M I L Y
Christmas is often when your new baby will be introduced to your wider extended family and if you haven't already noticed, everyone seems to have an opinion on something when it comes to babies... which can be frustrating and stressful. Don't forget that while everyone is entitled to their opinion, you are not required to take on those opinions as your own. You know your baby best!
A S K F O R H E L P
Christmas can certainly be A LOT even without a newborn. Don't be afraid to say yes when someone offers to help or to speak up and ask for it. You might ask visitors to bring food contributions instead of making all the meals yourself. It can be helpful to keep a list of things that need doing on your phone so if someone offers to help you can suggest something from it.


R O U T I N E S A N D W H E N T O S A Y N O
If you're a stickler for routine, you may find the festive period calls for a bit more flexibility than usual. Your baby will pick up when you are stressed, so avoid the vicious circle and try to embrace the change in routine temporarily. If this doesn't work for you then don't be afraid to say no. The festive season is busy enough and when you're a new mum running on limited sleep, night feeds and juggling the normal Christmas expectations. You just can't do everything. Sometimes you need to find your voice and say no. After all, happy mum, happy baby.