Baby's First Christmas
Posted on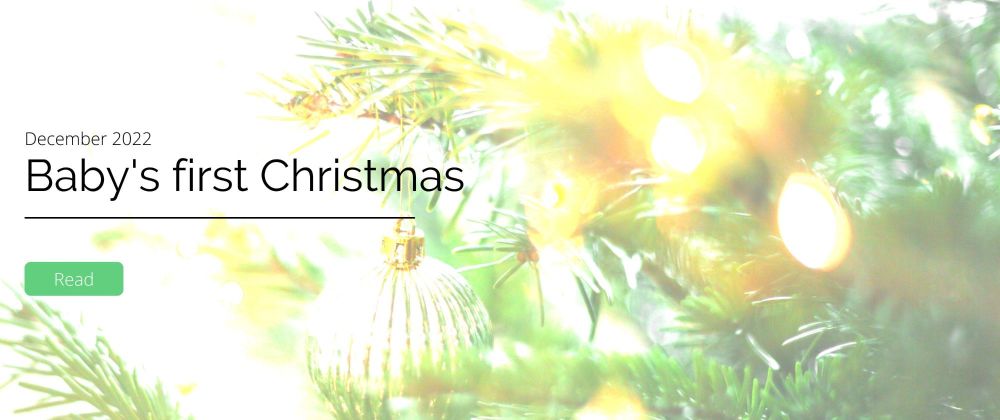 Your first Christmas as a family makes the festive season extra special, we've listed a few ideas to think about adding to your Christmas this year!
New traditions
This might be the year you start new traditions as a family that you'll continue for years to come. Perhaps it's a special trip to take or a local festive event. Chat to your partner about things you'd both like to do as a family over the festive season.
See the lights
Wrap up warm and take a wintry walk to visit some local Christmas light displays. Your baby will be enchanted by the bright contrasting colours and glowing colours.
Christmas crafts and keepsakes
Perfect as a keepsake for yourself or as a sentential gift for the grandparents. There are lots of ideas online but you can't go wrong making your own footprint Christmas cards. Paint their feet and splodge them on a piece of card, depending on the colour of paint you use you can embellish them to look like any Christmas animal, reindee, snowmen and penguin are great festive ideas. Your baby will love the sensory experience of having the cool paint applied to their skin and you get a gorgeous footprint to look back on and say things like "I can't believe how tiny they were" if your baby is older you can try handprints too although little ones have a habit of curling up their fingers so footprints tend to have a much higher success rate!
Take a family photo
I bet your phone is filled with photos of your little one but how many family photos do you have? With family gatherings and parties aplenty make the most of those extra pairs of hands and get someone to snap a your first family Christmas photo.
Novelty outfits
Perhaps the marmite of the list as a novelty Christmas outfit tends to divide the crowd you'll either love it or hate it! If you love a novelty Christmas outfit you'll find almost every kind of outfit available for your little one from full on Christmas costumes to garments with a more subtle Christmas print. If you're looking to break yourself in slowly to Christmas clothing for your little one try a novelty bib or hat!
Create a wish list
All of a sudden people will be asking you what they should get your little one for Christmas. Having a few ideas to hand can be really useful, people often love being directed to a specific toy or item as it makes life easier for them plus it reduces the chance of you ending up with duplicate items.
Don't be afraid to keep it simple
Your extended family will likely go overboard on presents for your little one, you might find this especially true if this is the first grandchild in the family. Don't feel pressured to do the same, after all your little one won't remember
this year at
all. Perhaps just choose something small or sentimental from yourself, maybe a carefully chosen soft toy or a special book you could write a message to your little one in the inside cover to remember this first milestone.
Enjoy it!
Christmas can also be stressful, as a new mum don't forget to be kind to yourself. Our festive blog post from last year covers lots of tips for surviving the festive season as a breastfeeding mum.
Read it here.